When a new Avastar is created you can get it either with a complete set of System Meshes for eyes, head, body, … Or yuo can choose to get only the Skeleton. But sometimes you may want to get your Avastar for example only with a head, or only with eyes. In this case you first create the new Avastar then remove all unwanted meshes.
This tool makes it a little bit more convenient to remove the System meshes.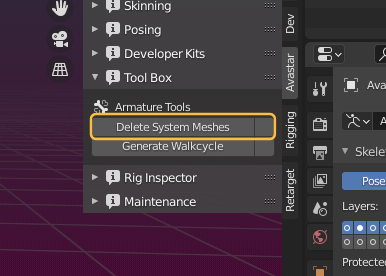 Right after you clicked on the tool, all meshes will disappear. However, you can change that in the Redo Panel ( lower left corner of viewport, named Manage Avastar Meshes )
Here you can select which of the system meshes you want to keep.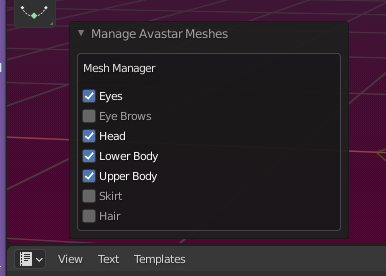 Notes
This operator only works on Avastar system meshes. It  can not handle custom rigs and custom meshes.
The Operator can only handle existing meshes. It can not bring back missing meshes
Tip: If you want to repair your System meshes, you can use the Rig Inspector for this.