Developer kits
This section contains more complicated topics which need a fairly amount of basic knowledge. Please make sure that you have a good understanding of Blender, Avastar and Secondlife before you continue from here.
Important for attachment makers
We recommend that you use the Avastar Developer kit Manager instead of using the Rig Conversion tool described in a subsection of this document series. Please use the Rig Conversion tool only when the Developer kit Manager fails for any reason. In that case please also report to us how exactly the Developer kit Manager failed.
Section sub pages
Kit Creators If you are a Developerkit creator, then this set of pages is for you. We give you a short overview of how a Developer kit is supported from within Avasar and we show you how you can adjust your Developer kit for best usage by attachment creators....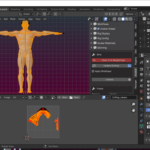 Kit Users If you are an attachment creator (kit user) who mainly uses ready made Developerkits, then this set of pages is for you. We describe how to customize Avastar to use one or more Developerkits and we give some examples for how to use a Developerkit for different workflows....