Getting Help
About this Document...
Content:
A few quick tips where you can find help for Avastar.
The Video:
Currently no Video available
What does Avastar provide?
Avastar basically supports the creation of animatable Models (Avatars&attachments) and the creation of animations. therefore the tool adds various functions and user interface elements to Blender.
The full functionality of Avastar can be a bit overwhelming on first sight. You should be prepared to spend some time and patience to get it all working nicely for your projects.
We expect that you have basic knowledge about Blender.
Avastar is a complex tool and you must be aware that you can only understand how to use it by reading the documentation and by making your own experiments.
Avastar documentation website
Context Help pages
Basic tutorials
Technical documentation
Workflows (in preparation)
Videos
Blender – Help Section
Important: Please make sure that you have downloaded and installed the DocuOnTop Add-on from your Download page. Then the Blender Help Menu contains Direct links to videos and tutorials on the Avastar documentation website.
Blender – Large Tool Tips
Hover the mouse over any Button in the Blender user interface to see the tool tip. Avastar functions often have large tool tips with essential information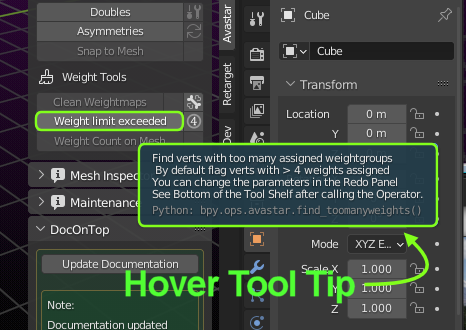 Blender – Online Manual
RMB click (Right Mouse Button) on any User interface element to see the link to the context sensitive Online Manual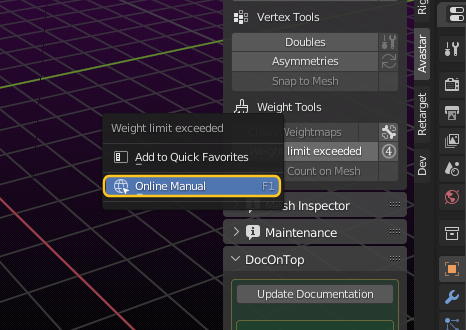 Blender – Session Log
contains all activities you have done during your current Blender Session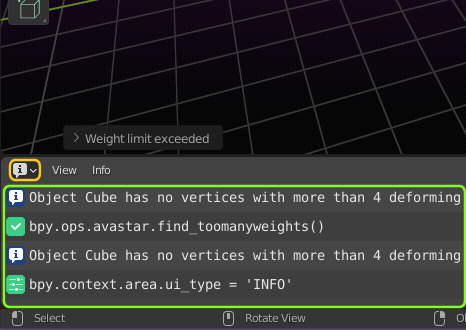 Blender – Console
contains Detail information about your activities in Blender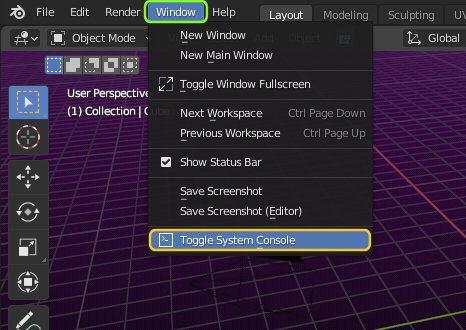 SL Chat Group  Blender Avastar
We have a few support people trying to help as much as they can to quickly get you back on track when you got lost.
Support people:
Eleanora Newell
Etheria Parrot
Gaia Clary
Discord Online Chat

Please contact us on our Discord Server to get more help for your specific issues with Avastar and Blender.