Abstract
In this document we describe a practical approach to prepare a model  for usage in Secondlife and how to create a Developer kit for this model. We will begin with a Mesh model which is initially in a somewhat unfortunate state, a situation that might happen while actively working on a real project and forgot things to do or undo, while focusing on the main part, the model itself.
The approach described here just happens to need many different steps for cleaning up and preparation. So we can demonstrate how to do each of those steps. Of course your situation may be completely different and our approach is just one way to go. But studying this document may help you to get your project into a more suitable shape as well. Furthermore you will end up with a clean Developer kit that will surely make your own customers very happy.
The Scenario
I will show you now how you can rescue your model and get it to work. Actually we want to start with a clean not rigged model. So in the very first step we will cleanup the entire scene (equivalent to cleanup our desk)…
Clean the project file
First milestone: Clean desk achieved
By now we have cleaned up the scene. We removed the armatures and we have cleaned up all meshes, so that we now can restart our binding. But before we do that we do some more cleaning up, this time on the mesh itself.
Remind: We want to create a perfect (ok, almost perfect) mesh model that can be used as Avatar for SL and also as a Developerkit for usage within Blender and other 3D content creation tools.
Inspect and fix the model
Topology
Symmetry
This video is for an older version of Avastar. But its content is still valid.
Although there is no strict rule about symmetry, it makes a lot of sense to make sure that your model is symmetric. This will later save you and your customers a lot of work.
Note: If you are familiar with Blender then you certainly know about the mirror modifier.  While you can use this modifier to make symmetric models, sometimes you have a situation where a model is overall symmetric, but has small deviations. And maybe you only want to work on a part of a mesh to make it symmetric.
We have added a symmetry tool to Avastar that is based on the Blender symmetry tool but it may be a little bit easier to use. This tool can show you where asymmetries are and it can fix them. Here we go:
Now all edges are selected which are not symmetric. In our mesh we can find a few of such edges despite the fact that all vertices are symmetric. The reason in our case is that some edges connect to the wrong vertices. So, automatic fixing does not work nicely here. We need to fix the edges manually. Then, when we are done with fixing the edges, then finally we need to do this very same procedure one last time to check the symmetry of the faces.
Hint: In general when vertices and edges are symmetric then any asymmetry in faces can only come from missing faces.
When the mesh is reported to be symmetric regarding vertices, edges AND faces, then we are done and the mesh is ready for the next step. Save it now!
Second Milestone achieved: A Clean mesh
We have adjust the entire mesh to a model symmetric on the X-Axis. We now need to turn our focus to UV Mapping (texturing)
Some vertices have been placed in the lower left corner of the UV-map, namely at location (0,0) those vertices have not been unwrapped.
Some toes and nails overlap (see orange/pink areas in the image)
Some U vertices are placed at odd places (see the spikes)
We take care of those issues one by one.
There are a few things to remember:
What you see here is a map, this is not an image or a texture!
A model can be setup with multiple textures using the same UV-map for different parts of the mesh.
The assignment of textures to faces is done by use of Materials
So the UV map is not wrong so far. However, we use about the same map space for the 10 nails and toes as we use for the entire body. When we look at the difference of sizes of the nails compared to the size of the body we might ask our self if it is really necessary to have such a huge part of the UV map reserved for the nails.
Hint:
Press 's' to scale selected parts of the UV map
Press 'g' to move selected parts around in the U map
Press 'r' to rotate selected parts of the UV map
You can temporary move parts out of the indicated UV-map range
Rearrange an entire map
Now that we have become a bit comfortable with the tool, here is a trick how you can speed up your work on the UV map. Lets assume you want to start with just one U map for the entire model and you want to rearrange this map for easy usage. Instead of inspecting the mesh and the map step by step we also can do this in one go. The workflow is this:
Final note
In most models it makes sense to use multiple materials to texturize your body. For example…
You can  scale up the face UV map to have more room for details, so you assign the related Mesh faces to a separate Face material.
You may want to have more details on the nails? Scale up the nails U map and add a nails-material.
You want to be able to replace lips color? separate the lips into a lips-material
And remember: Having overlapping UV Islands is not an error! You just need to use multiple materials for separating the parts.
I believe i have now talked enough about UV mapping. Now lets get into motion and …
Prepare the Rig
Now we have prepared our model as good as we could do. We can proceed by preparing the Rig. We will have to:
Adjust the torso bones
Adjust the hand bones
Adjust the Face bones
We will Create a new Bento rig. We adjust the rig completely in Pose mode. Then we create a new Bind pose and use that for the final binding of the mesh to the rig.
Create the Rig
All following activities happen in pose mode. We will only use the green animation bones.
The torso bones
TODO: Rework below here 
Arms and hands
The Face bones
Adjust the various face sliders
Create the bind Pose
Important note: the Bind Pose feature can only be used easily with human skeletons. For creatures or massively modified skeletons we need to take some extra action when we want to use bind pose. You can find more about this in the Bind pose documents.
Check the Bone Roll
But our fingers have their local Z axis pointing anywhere but straight upwards. So we have to fix that now.
You might want to check also all other bones of your mesh for correct Bone roll. Now your rig is adjusted to the mesh and it is time for the final step, that is…
Bind the Mesh
Now check the weights of your mesh by posing the armature and see if the skin behaves correct. You also can check if the apperance sliders now work nicely with your mesh. It looks pretty well now: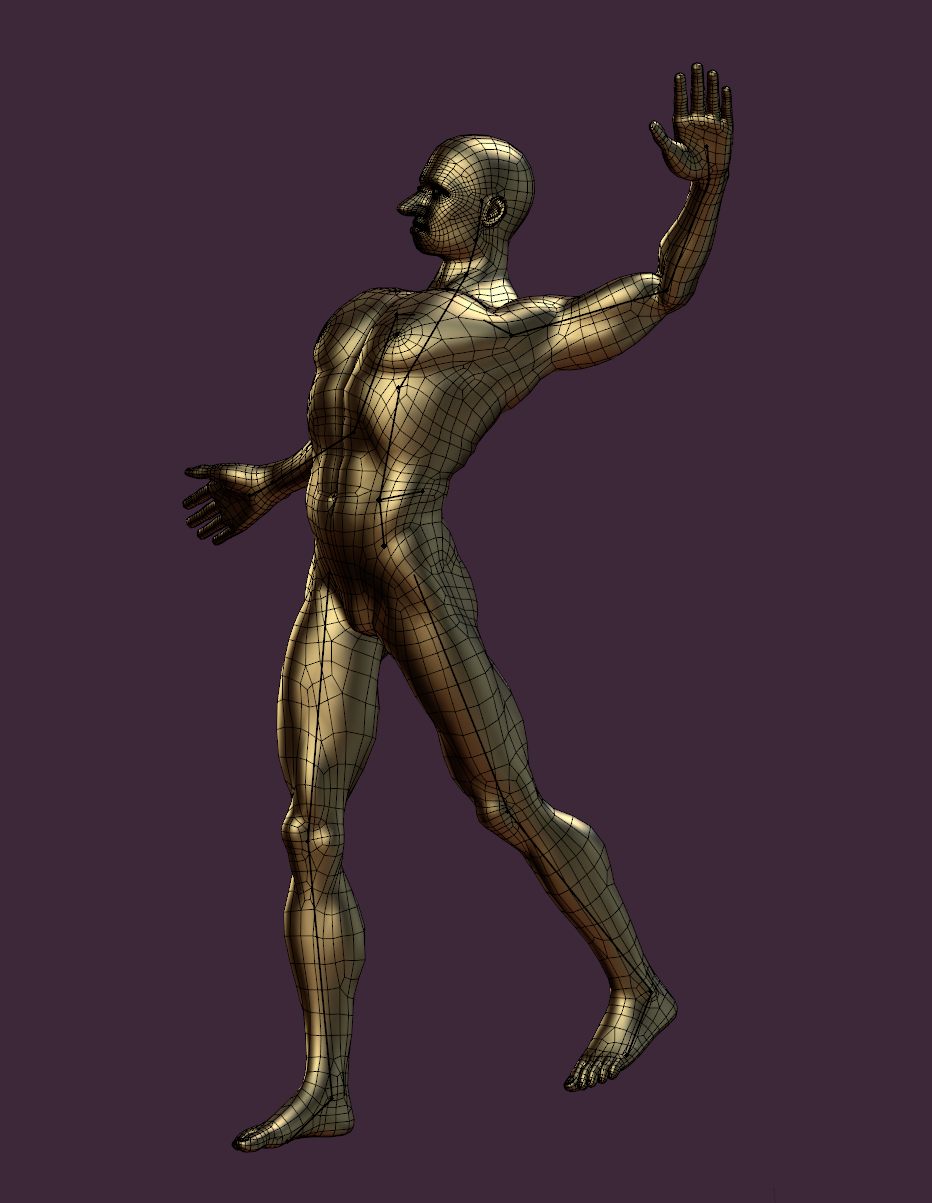 If you look close to the head then you see that even the face appearance sliders are working, as the nose size has been changed using the Node – Size slider. The sliders work also in SL of course!
Make the Developer kit
Export as Collada file
Export the file with the Avastar Collada exporter as usual and test this Collada file with SL. make sure it uploads correctly to SL, it poses correctly and it just does exactly what you want it to do and how you want it to look alike in SL. If anything is wrong, then go back to the blend file and fix it until you are happy with the results.
Important: The Collada file is what you send to your customers as the Developerkit!
Configure (what your users do)
The next step must be performed by your users. You only need to deliver the just created Blend file to your customers. And you must tell them the customization parameters:
Import options:
Brand (Cesary)
Model (Julian)
Imported Rigtype (SL)
Imported Joint Type (Pivot)
Imported Up Axis (Z Up)
Scale factor (1.0)
Exported Rig (Extended or Basic, user decision)
Exported Joint type (Pivot)
Rig Options:
Use SL Head (no)
Use male Shape (Yes)
Use Male Skeleton (No)
Transfer Joints (yes)
Use Bind Pose (yes)
Enforce SL Bone Ends (yes)
Enforce SL Bone Roll (does not matter its already correct)
And here is what your users will actually do with the above information:
Configure
 Use
Get Creative