Avastar-2 comes with a huge amount of functionality and options. This can be very overwhelming for beginners and occasional Users. So we have added a settings panel from where you can make the Avastar panels less cluttered for newbies and occasional users while the advanced users and expert still can get the full option set.
Section sub pages
Avastar Preferences   The Avastar Preferences Button is actually a shortcut to the Avastar Add-on Preferences where you can setup the Avastar Add-on parameters. Normally you do not want to change anything here. However especially if you are a long time user or someone who knows much about Blender, ...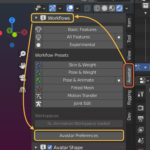 Workflow Presets User Interface Settings You find the Workflows Panel in The Tool Shelf (in the Vertical Avastar Tab, see image) The User interface settings are: Basic Features: Good for newbies and occasional usage. Displays the most important options (This is the default setting for a new installa...